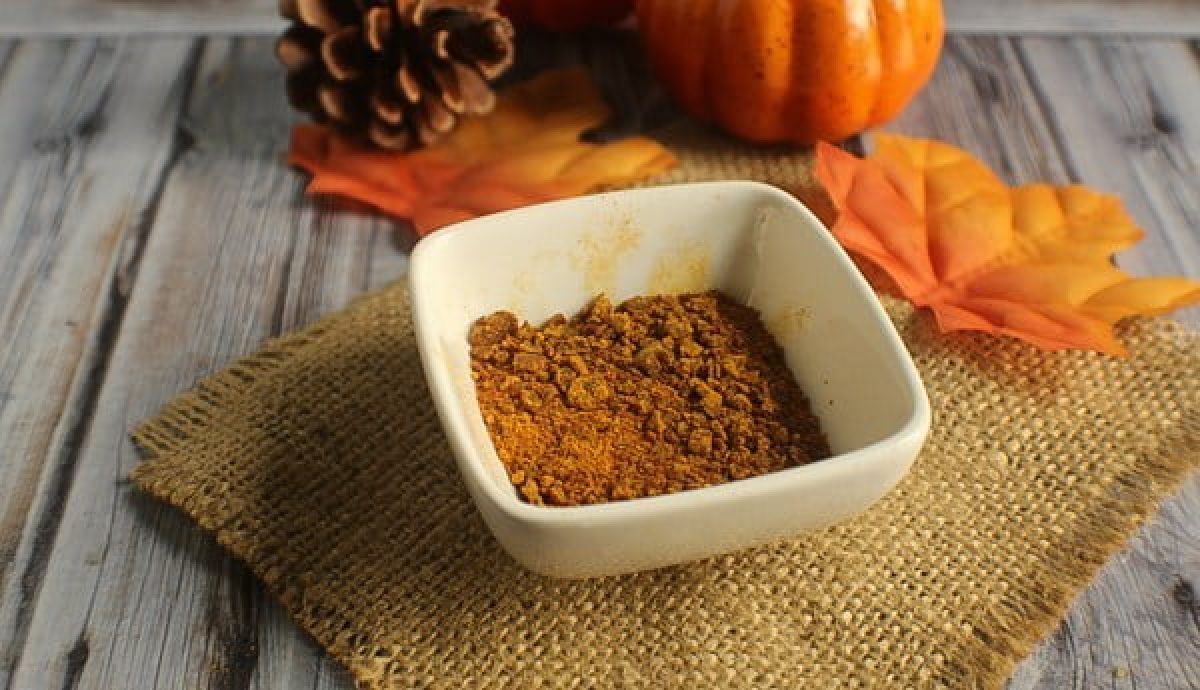 HEXA Pumpkin Powder
HEXA brings to your kitchen and dining table, Pumpkin Powder, which is made from 100% pumpkin and originates from China. A good substitute for fresh pumpkin, it is made by dehydrating pumpkin purée until it becomes dry, crisp and brittle. Then it is ground into a fine powder. This orange powder is full of Vitamin A, fiber, antioxidants, and plenty of B complex vitamins. It has endless unique benefits.
It is useful for many recipes, from sweet to savory. It is perfect for adding color and flavor to pasta, bread, yogurt and desserts, and for mixing with other baking spices to use in pumpkin pies, cakes, and cookies. It is also perfect for thickening soups and sauces, whilst adding a wonderful, robust flavor to them. Plus, the powder is great for sprinkling onto pancakes, curries, shakes, coffees, and teas to spice them up and give that fresh, sweet, and authentic pumpkin taste. It is also a natural food dye for food.
This dehydrated powder is easy to store and use, and has a twelve-month shelf life. Avoid high humidity and direct sunlight. Individual consumers will find it easy to cook with, and food will taste fresh and inviting. Retailers and service operators will easily attract pumpkin food lovers who want natural color and exquisite flavor in their food. HEXA Pumpkin Powder is available in 1kg bulk packs.
To get this product at our e-store, click here Ebaza.com.my
Click this link directly to product: https://www.ebaza.com.my/hexa-pumpkin-powder-30g
HEXA Food Sdn. Bhd. is a HACCP and HALAL certified food processing company located in Shah Alam, Malaysia. Established in 1997, we produce more than 100 dry products such as spices, seasonings, herbs, marinades, flour, and curry powder. HEXA is a household brand that defines Quality, Affordability, and Taste.
Our sales channels include Retail (hypermarket, supermarket, mini market, etc.), Food Manufacturer, Food Service, and Online. If you have any questions regarding our products, please email us at hexafood@hexafood.com
Serbuk Labu HEXA   HEXA membawa ke dapur dan meja makan anda, Pumpkin Powder, yang diperbuat daripada labu 100% dan berasal dari China. Sebagai pengganti labu segar, ia dibuat dengan cara mengeringkan puri labu sehingga kering, garing dan rapuh. Kemudian digiling menjadi serbuk halus. Serbuk oren ini penuh dengan Vitamin A, serat, antioksidan, dan banyak vitamin B kompleks. Ia mempunyai faedah unik yang tidak berkesudahan.
Ia berguna untuk banyak resipi, dari manis hingga gurih. Sangat sesuai untuk menambahkan warna dan rasa pada pasta, roti, yogurt dan pencuci mulut, dan untuk mencampurkan dengan rempah penaik lain untuk digunakan dalam pai labu, kek, dan kue. Ia juga sesuai untuk menebal sup dan sos, sambil menambahkan rasa yang hebat dan kuat pada mereka. Selain itu, serbuk ini bagus untuk ditaburkan ke atas pancake, kari, goncang, kopi, dan teh untuk membumbui mereka dan memberikan rasa labu yang segar, manis, dan asli. Ia juga pewarna makanan semula jadi untuk makanan.
Serbuk dehidrasi ini mudah disimpan dan digunakan, dan mempunyai jangka hayat dua belas bulan. Elakkan kelembapan tinggi dan cahaya matahari langsung. Pengguna individu akan senang memasaknya, dan makanan akan terasa segar dan menarik. Peruncit dan pengendali perkhidmatan akan mudah menarik peminat makanan labu yang menginginkan warna semula jadi dan rasa yang indah dalam makanan mereka. HEXA Pumpkin Powder boleh didapati dalam pek 1kg.   Untuk mendapatkan produk ini di e-kedai kami, klik di sini Ebaza.com.my Klik pautan ini terus ke produk: https://www.ebaza.com.my/hexa-pumpkin-powder-30g
HEXA Food Sdn. Bhd. Adalah syarikat pemprosesan makanan bersertifikat HACCP dan HALAL yang terletak di Shah Alam, Malaysia. Ditubuhkan pada tahun 1997, kami menghasilkan lebih dari 100 produk kering seperti rempah, perasa, ramuan, perap, tepung, dan serbuk kari. HEXA adalah jenama isi rumah yang menentukan Kualiti, Kemampuan, dan Rasa.
Saluran penjualan kami merangkumi Runcit (pasar raya besar, pasar raya, pasar mini, dll.), Pengilang Makanan, Perkhidmatan Makanan, dan Dalam Talian. Sekiranya anda mempunyai pertanyaan mengenai produk kami, sila e-mel kepada kami di hexafood@hexafood.com
它是由100%南瓜制成,来自中国。作为新鲜南瓜的替代品,它是通过将南瓜泥干燥至干,酥脆而制成的。然后磨成细粉。这种橙色粉末富含维生素A,纤维,抗氧化剂和许多维生素B复合物。它具有无穷无尽的独特优势。 它可用于许多食谱,从甜到咸。非常适合在面食,面包,酸奶和甜点中添加颜色和风味,并与其他烘烤香料混合使用,以用于南瓜派,蛋糕和蛋糕。它也适用于浓汤和酱料,同时给它们增添浓烈的风味。此外,这种粉末非常适合撒在薄煎饼,咖喱,奶昔,咖啡和茶上,为它们调味,并赋予它们新鲜,甜美和原始的南瓜味。它也是食品的天然食用色素。 这种脱水粉末易于保存和使用,保质期为十二个月。避免高湿度和阳光直射。单个用户会喜欢烹饪,食物会感到新鲜有趣。零售商和服务运营商将很容易吸引渴望在食物中加入自然色彩和精美风味的南瓜食品爱好者。 HEXA南瓜粉有1公斤装。
要在我们的电子商店中获取此产品,请单击此处Ebaza.com.my
单击此链接直接指向产品:https://www.ebaza.com.my/hexa-pumpkin-powder-30g
HEXA Food Sdn。 Bhd。是一家通过HACCP和HALAL认证的食品加工公司,位于马来西亚的莎阿南。成立于1997年,我们生产100多种干产品,例如香料,调味料,配料,腌料,面粉和咖喱粉。 HEXA是一个家用品牌,它决定质量,功能和口味。 我们的销售渠道包括零售(超市,超级市场,小型市场等),食品制造商,食品服务和在线。如果您对我们的产品有任何疑问,请发送电子邮件至hexafood@hexafood.com